The following five step design process is a useful guide for an integrated design process.
A. Preliminary Design Phase
(approximately 10-15% of overall process)

Orientation to the site and the local neighborhood, outline access and circulation on site. Review history of property previous schemes as well as natural and cultural landmarks of the neighborhood.
Outline major requirements and programmatic needs of the client and integrate with preliminary notions of budget, construction scheduling and primary concerns of the site. Review of building codes and zoning regulations pertinent to project.
Create full set of measured drawings with digital model to serve as base for design work in rehab and addition work, coordinated with certified plot plan from a surveyor locating utilities and grades as necessary.
B. Schematic Design Phase
(approximately 15-20% of overall process)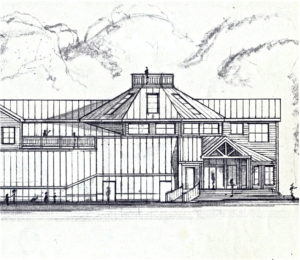 Design options presented with developed sketches, CAD 2D and 3D drawings, with square foot budget numbers and construction scheduling discussed with respect to each scheme.
Initial direction established for mechanical, electrical, day-lighting options, sustainable objectives and green strategies that are most appropriate to the site and owners sensitivities.
Reaction and feedback, sketching and discussion with the client to identify best steps forward as well as problem areas to resolve. Integrate the most compelling solutions to take to the next level of design.
C. Design Development Phase
(approximately 20-30% of overall process)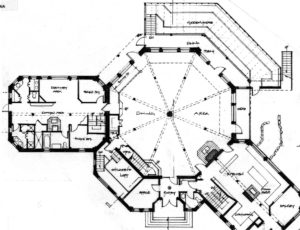 Prioritize the most successful aspects of the optional design schemes and consolidate into one design development scheme with suggested direction for structural and mechanical solutions.

Outline specifications begun with narrative of proposed project components. Drawing submitted with schedules to pre-screened list of builders for developed budget proposal.

Meet with clients and individual contractors to review proposals, options for savings and improvements to design, as well as options for building contracts moving forward.

D. Working Drawings And Specifications
(approximately 25-35% of overall process)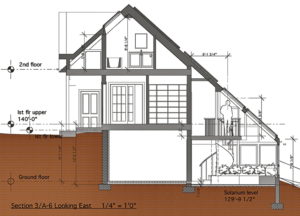 Completion of drawings noting new work, final outline specs, sequencing of project, materials, references to specialty suppliers, related web-sites, standards and approved technical procedures.
Final pricing from contractor(s) with scheduling based on final engineering, specifications and drawings. Incomplete areas or components undecided given budget allowances carried in final pricing.
Construction fee and schedule agreed on, contractor selected and contract signed between owner and contractor. Permits secured from building department, and construction commenced.
E. Site Review And Support Phase
(approximately 10-20% of overall process)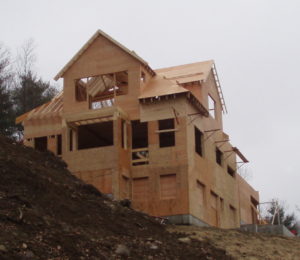 Regularly scheduled progress meetings on site held with owner, architect, and contractor to review progress with plans and existing conditions, and budget review on allowance issues.

Contract administration to include review of hidden or unforeseen conditions, reflected in updates to plans and specification with change orders as needed.

Final punch list reviewed at

close

of construction with owner and contractor in advance of final payments. Schedules for ongoing monitoring and commissioning for green systems agreed upon.
Computer Aided Design
ArchiCAD has become the principal drafting and modeling tool for this office, providing effective visualization  for our clients with efficient and clear construction documentation. Working in a full time digital 3D environment, communication is enhanced for all members of the project team, while engaging seamlessly with other CAD and engineering programs. Here is a sample project.